Exhibition Opening: Indian Summer by Papia Ghoshal
Hans Weber
August 11, 2022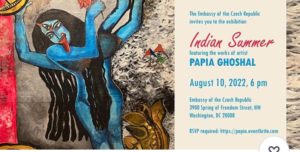 The Embassy of the Czech Republic presented the exhibition Indian Summer, a selection of works by artist Papia Ghoshal, on August 10, 2022, at 6 pm. Through her work the artist challenges norms to overcome boundaries. Out of the colors emerge powerful messages, where subjects are stripped of their social conventions, hypocrisies and taboos. Overall, Papia's art is provocative and erotic. It is a fascinating mixture of traditional Indian philosophy, Bengali styles of painting and the European surrealist movement. Ambassador Hynek Kmoníček opened the event.
About the Artist: Papia Ghoshal is a painter, singer, actress, and poet. She has created thousands of paintings, ten poetry books, and has directed and starred in feature films and documentaries. She is the Lead singer in her group Papia Das Baul, traveling between Kolkata (India) London, and Prague. Ghoshal graduate in political science, sociology and Indian vocal music from the University of Calcutta. Masters in Indian vocal music from Karnataka University. She has also done her 6th year diploma in Indian Classical Vocal music, Rabindra Sangeet and Bengali Folk Music. She further studied at Merton College London and dedicated herself to Indian art. She was a student of the Indian legendary painter Prokash Karmakar for over 15 years. She is the International Editor of "The London Miscellany," dedicated to literature and art. Until 2009, she was the international editor of The London Magazine. She is a curator of the Gallery Indian Images in Kolkata, London, and Prague.
She has received such awards as the Trebbia International Award 2022, Kolkata International Poetry Award, Mother Teresa International Award (Kolkata 2012), Medal of Franz Kafka (European Circle of Franz Kafka, Prague 2008), World Prize of Salvadore Dali (Alliance Salvadore Dali International, Gallery Lapidarium, Prague, 2009) European Prize for Fine Arts (European Union of Arts, Miro Gallery, Prague 2007) and  also protagonist of the awards winning Czech TV produced film called Pribeh Tantry.
Embassy of the Czech Republic in Washington overdone a nice Vernissage opening, Vernissage will be open until date of invitation.
The Czech Ambassador in Washington, H.E. Hynek Kmoníček organized on the premises of the Czech embassy a vernissage of Papia Ghoshal.
Prague Forum Membership
Join us
Be part of building bridges and channels to engage all the international key voices and decision makers living in the Czech Republic.
Become a member