Former East German refugees mark anniversary of 1989 escape to West
Hans Weber
August 23, 2022
Former East German refugees have marked their successful 1989 escape to West Germany at the German Embassy in Prague. The event would eventually lead to the fall of the Berlin Wall and German reunification.
"Emotions are welling up," Hilmar Zander, a 65-year-old former refugee in attendance, told the dpa news agency. Zander came to the embassy with his wife and two small children in 1989. "It was worth it," he said.
In commemoration of the day, the embassy recreated the scene from 1989, including emergency tents and large pots of soup similar to the food refugees ate at the time.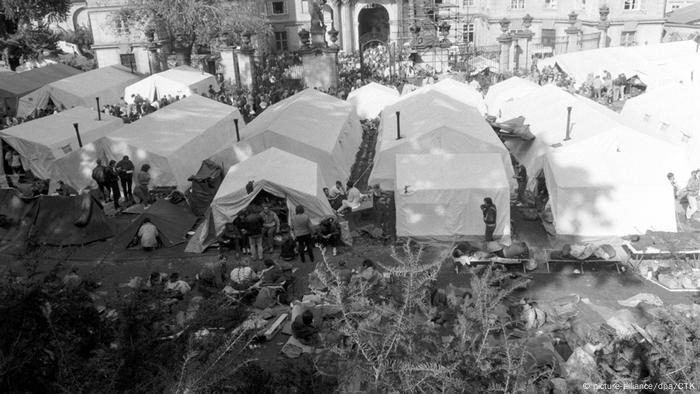 Refugees from East Germany camped outside the West German Embassy in 1989
Desperate measures
Starting in the summer of that year, more and more East German refugees made their way to the West German Embassy in Prague with the goal of emigrating. Many scaled the fence surrounding the embassy to enter. By September, thousands of men, women and children were living in makeshift tents on the property.
On September 30, West Germany's then foreign minister, Hans-Dietrich Genscher, announced their fate from the embassy balcony. "Fellow countrymen, we've come to you to share the news that as of today…." The rest of his statement ("…your departure into the Federal Republic of Germany is now possible") was famously drowned out by the cheers of thousands of refugees.
Read more: Prague embassy crisis 'a severe blow to the Berlin Wall,' Genscher says
Between September 30 and October 4, 1989, around 13,000 East German citizens traveled by train from Prague to their new home in West Germany.
Prague Forum Membership
Join us
Be part of building bridges and channels to engage all the international key voices and decision makers living in the Czech Republic.
Become a member