Czech inflation back in single digits
Lowest inflation in the CEE region
June consumer prices rose 0.34% month-on-month, which translated into a drop from 11.1% to 9.7% year-on-year. Inflation in the Czech Republic is the lowest since December 2021 and the country is now the first in the CEE region to have returned to single-digit territory. Prices were pushed up in June mainly by seasonal factors in recreation prices. Otherwise, we saw a steady rise across the consumer basket.
Core inflation fell from 8.6% to 7.8% YoY with downside risk, according to our calculations. The CNB will release official numbers later today, as always. June inflation is four-tenths below the central bank's forecast, but this means a one-tenth reduction in the previous forecast deviation. Core inflation in the second quarter, by our calculations, surprised the central bank to the downside by two-tenths on average.
Contributions to year-on-year inflation (bp)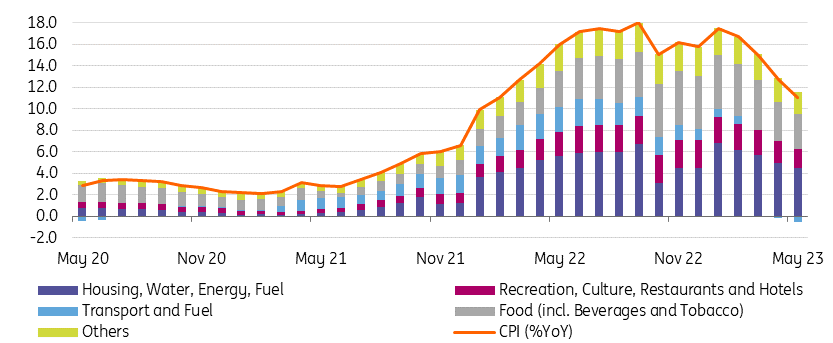 The CNB wants to see more before cutting rates
Looking ahead, our fresh nowcast indicator points to July inflation falling to 8.6% YoY. The pace of disinflation should thus start to slow in line with our earlier expectations. Therefore, we think today's result will not be a game-changer and the current drop in inflation will not be enough for the CNB. Today's inflation number is the last before the central bank's August meeting, including a new forecast. We expect the CNB to wait to cut rates until the November meeting with the risk of postponement until the first quarter of next year.
Prague Forum Membership
Join us
Be part of building bridges and channels to engage all the international key voices and decision makers living in the Czech Republic.
Become a member