Embassy of Sweden in Czechia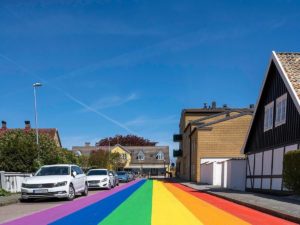 Dnes posíláme (trochu) víc lásky našim LGBTQI+ sledujícím! 
 Víme, s čím bojujete, jsme s vámi a snažíme se vás podporovat, jak jen to jde.
Před 32 lety, 17. května, vyřadila Světová zdravotnická organizace homosexualitu ze seznamu duševních nemocí. Proto je dnešní den Mezinárodním dnem proti homofobii, transfobii a bifobii – #IDAHOT. 
Lesby, gayové, bisexuálové, transsexuálové, queer a další lidé s různými sexuálními a genderovými identitami se bohužel po celém světě stále setkávají s nepochopením, nepřátelstvím, diskriminací a násilím. Každý si zaslouží právo být sám sebou a cítit se bezpečně. 
Na fotografii vidíte duhově zbarvenou ulici Pride ("Pridesgatan") v jihošvédském městě Höganäs, kde se letos v květnu uskuteční první místní Pride festival.
Foto: Höganäs kommun, repost
Source
Prague Forum Membership
Join us
Be part of building bridges and channels to engage all the international key voices and decision makers living in the Czech Republic.
Become a member