Embassy of the Netherlands in the Czech Republic
You still have until 24 June to visit the Rotterdam Rooftop Walk
. Designed by
MVRDV
it was created to draw attention to the challenges the second largest Dutch city faces because of the
#climatechange
and rising sea
level.
Companies and NGOs show their latest rooftop innovations in green roofs,
#energytransition
,
#water
retention, rooftops as public space and more. Together with contributions from the arts and sciences, these form a manifestation of innovative rooftop use and a vision of a possible
#future
for cities utilising their roofscape to the fullest.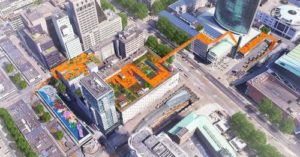 Source
Prague Forum Membership
Join us
Be part of building bridges and channels to engage all the international key voices and decision makers living in the Czech Republic.
Become a member