Embassy of Ukraine in Prague / Velvyslanectví Ukrajiny v Praze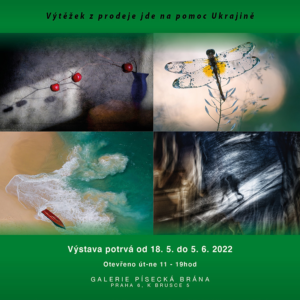 Česká federace fotografického umění a Ukrajinský svaz fotografů pořádají výstavu fotografií ukrajinských autorů.
Vernisáž výstavy se bude konat zítra, 18. května v 18:00 v galerii Písecká brána v Praze 6.
Organizátoři vybrali od třiceti pěti na Ukrajině žijících autorů 50 fotografií, se kterými se při prohlídce můžete potěšit, ale i koupit libovolný počet tisků. Jde o současnou tvůrčí fotografii vzniklou před vpádem ruské okupační armády.
Veškerý výtěžek z prodeje fotografií organizatoři věnují na podporu Ozbrojených sil Ukrajiny prostřednictvím sbírky https://www.supportukraine.cz.
 Чеська федерація фотомистецтва та Українська спілка фотографів запрошують на виставку робіт українських фотографів у Празі.
Відкриття виставки відбудеться завтра, 18 травня, о 18.00 в галереї Písecká brána (поряд з метро «Градчанська»).
На виставці можна буде подивитися і придбати одну з 50 фотографій від 35 українських фотографів. Усі роботи були зроблені до початку повномасштабної російської агресії в Україні. Ціна однієї фотографії – 1500 крон, усі кошти будуть перераховані на підтримку Збройних Сил України через рахунок Посольства України в Празі: https://www.supportukraine.cz.
Prague Forum Membership
Join us
Be part of building bridges and channels to engage all the international key voices and decision makers living in the Czech Republic.
Become a member