Embassy of Ukraine in Prague / Velvyslanectví Ukrajiny v Praze
It was with great sadness that Mikhail Schigol, a Ukrainian artist and architect, founder of the Nina Kolomiyets Museum in the Czech Republic, died on July 20, at the age of 76 in Prague (1945-2022. ).
Mr. Michael was a talented and tireless artist, a caring father, altruist and a great friend of Ukraine. With great gratitude, we recall joint exhibitions and cultural and artistic events, including the opening of the Inna Kolomiyets Museum in Zheleznitsa in 2017. Express sincere condolences to the family, friends and loved ones of Mr. Michael.
_____________
Mikhail Shyigol was born on August 26, 1945 in evacuation in Chelyabinsk. Shortly, parents returned to their native Odessa. After graduating from the Kiev National University of Construction and Architecture under the direction of "Urbanístika", Mikhail Shyigol begins to work in Kyivproektí, in the 70s of the last century takes part in the formation of the concept of aestheticization of urban about the city of Kiev. In addition to architectural projects, Mikhail Shygol actively develops in the genre of painting. However, Soviet censorship allowed only two personal exhibitions – one lasted 1 day until it was closed, the other – 3 days.
After the tragic death of his wife, talented sculptor Marina Husid, in 1990 Mikhail Shygol moves with his son Danil to Czechoslovakia, where at the time it was possible to get qualified rehabilitation for Danilo, who was born with cerebral steam alich. Father and son settle in the small village of Železnice, where one of the specialized schools for Danilo was located. To help raise a grandson in Železnits often comes Marina's mother, Ukrainian sculptor Nina Kolomiyets. After her death, Mikhail Shygol set up Nina Kolomiyets Museum near his house, transporting part of her work from Kiev to the Czech Republic. In 2020, opened in Prague his own gallery "Shigol", which briefly became one of the centers of Ukrainian cultural life in the Czech Republic.
Since 1990, Mikhail Schigol has had over 100 private exhibitions in the Czech Republic, Austria, USA, Italy, Belgium, Slovakia and Ukraine. Andy Vargola Award Winner (2007 r. , Slovakia) and Oscar for humanity (1997 , Czech Republic).
About Mikhail Schigola and his son was filmed a documentary tape of Ukrainian-American production "Michael and Daniel" (directed by Andrei Zagdansʹkij).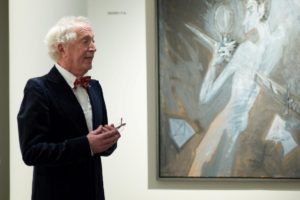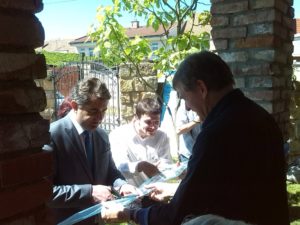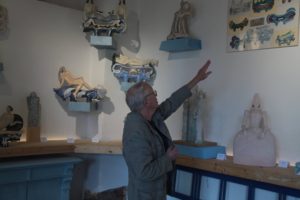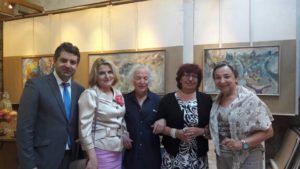 Prague Forum Membership
Join us
Be part of building bridges and channels to engage all the international key voices and decision makers living in the Czech Republic.
Become a member