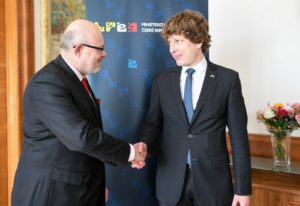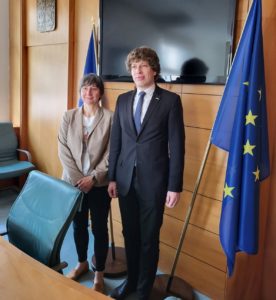 CZ/EE/EN
Dne 13. května navštívil Prahu
ministr zdravotnictví a práce Tanel Kiik, který se setkal s
ministrem zdravotnictví Vlastimilem Válkem a náměstkyní ministra práce a sociálních věcí Martinou Štěpánkovou, aby podpořil spolupráci
před nadcházejícím českým předsednictvím Rady
. Na setkáních došlo k výměně názorů na agendu EU, pomoci válečným uprchlíkům z
a Covid-19. Kromě schůzek vystoupil ministr Kiik na konferenci Digital Czech Republic 2022 v panelové diskusi věnované e-health, kde představil pokroky a zkušenosti
s používáním e-health řešení.
13. mail viibis Prahas visiidil
tervise- ja tööminister Tanel Kiik, kes kohtus nii
terviseministri Vlastimil Váleki kui ka asetööministri Martina Štěpánkovága, et edendada
koostööd Tšehhi peatselt algava EL Nõukogu eesistumise eel. Kohtumistel vahetati mõtteid
päevakorra,
sõjapõgenike abistamise ning Covid-19 teemadel. Lisaks kohtumistele esines minister Kiik Digital Czech Republic 2022 e-tervise teemadele pühendatud paneelarutelul, et tutvustada
edusamme ja kogemusi e-tervise lahenduste kasutamisel.
On May 13, the
Minister of Health and Labour Tanel Kiik visited Prague to further enhance
cooperation before Czech
Presidency launches. The Minister met with
Minister of Health Vlastimil Válek as well as with Deputy Minister of Labour Martina Štěpánková to exchange views with regard to EU agenda, helping
refugees and Covid-19 lessons. Minister Kiik also participated at the conference Digital Czech Republic 2022 to share the
experience in e-health.
Prague Forum Membership
Join us
Be part of building bridges and channels to engage all the international key voices and decision makers living in the Czech Republic.
Become a member