European Autocross Championship 2023 Přerov 26.-27. 8. 2023
Hans Weber
August 10, 2023
The FIA European Autocross Championship continues with the seventh event at the legendary Mammoth Valley racecourse in Přerov Gorge.
SuperBuggy, Buggy1600, JuniorBuggy, CrossCar and CrossCarAcademyTrophy drivers will compete for championship points. The young hopefuls of RacerBuggy will also perform.
A heinous accompanying program will be prepared. Red Bull Air Race winner Martin Shona's air show was already lifting all the onlookers out of their seats last year.
The new exhibition race of well-known personalities is included – Tomáš Enge, Martin Dejdar, Olga Lounova and Michal Kavalčík will fight for first place while preparing a great entertainment.
The Autocross Championship races at the CROSS Arena Přerov go back a long way. After a number of years of racing, the Championship was held in Přerov in 1998 in the first race of the European Autocross Championship, which is still run today. The track currently boasts one NEJ and the biggest elevation in the championship.
The race track is 1000 m long, 18 metres wide at its narrowest point and 20 metres wide at its widest point. The race track has a total of 7 turns, 5 left and 2 right. The track surface is clay-like.
Autographed by the riders will be in Prague, Náplavce in the bar Day Dee's – 9. 8. 2023, 7 p.m.
Don't miss the opportunity to meet famous people who will take part in this year's ME in Přerov. The event takes place on August 9 at Day Dee's bar from 7 p.m.
There is not only an autograph session, but also the release and baptism of the PROMO video Autocross 2023 filmed with Olga Loun, Michal Kavalčík, Martin Šonka, Ota The Excellent and Tomas Eng.
There will be a parade of racing machines on site.
JK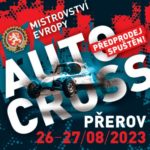 Prague Forum Membership
Join us
Be part of building bridges and channels to engage all the international key voices and decision makers living in the Czech Republic.
Become a member