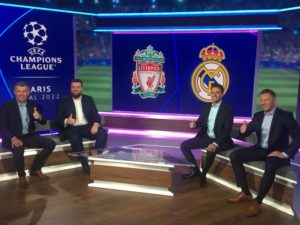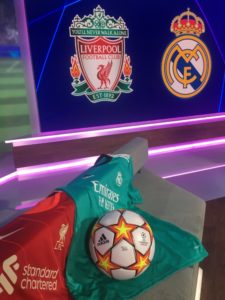 The finals of the Champions League will take place in Paris on Saturday, May 28, 2022, and Nova Sport will broadcast it from the new sports studio. In one of the most modern studios in Central Europe, Nova Sport will host not only the Champions League but also before matches of the Bundesliga, LaLiga, Serie A, but also hockey NHL and Moto GP.
The new sports studio was described by TV Nova's technical director Josef Uher. "One of the strategic goals of our company is to bring quality content and be a leader in innovation and technology in the television market. The new sports studio is the largest sports studio in the Czech Republic and is adapted so that we can take full advantage of technological development in the future." future involvement of augmented reality.   Related content  00:43 Real is the most successful team in LM. Who chases him and who most often fails in the finals? May 23, 2022 JAKUB MARTINOVSKÝ "It took less than a year, we asked for a budget in September and the work itself has been since the end of January," adds Uher, adding to the time-consuming nature of the new multifunctional studio.  That architect MgA. Tomáš Jaroš participated in the design of the new studio. "We went into it with timelessness. We need the studio to work for a while. We wanted to have basic shapes that will work and just don't look at the viewer," he says.  Related content  Real-Liverpool balance: The Spaniards are on top 24. 5. 2022 DAVID PANUŠKA "Of course we all like it very much, we finally have our own studio. Just that view is just beautiful," says Milan Štěrba, who will be the moderator of the Champions League in the studio. The guests will then be Martin Jiránek and Daniel Kolář.  "I like the way it plays with colors, the touch of light pink and purple. It's mainly our studio," adds commentator Vojtěch Tichava, who will be with his colleague Michal Jinoch directly at the Stade de France.
Reporter Štěpán Sokol will also be in Paris, bringing the most up-to-date information not only to sports news, but also to the Champions League studio. In addition, he will give an interview with a special guest, the winner of the LM final in 2005, Vladimír Šmicer.  In addition to the live broadcast of this year's final, an all-day program is dedicated to the Nova Sport 3 UEFA Champions League on Saturday, May 28. Liverpool vs. Real Madrid will start with pre-match talk in the new studio at 20:00 at Nova Sport 3.
JK
Prague Forum Membership
Join us
Be part of building bridges and channels to engage all the international key voices and decision makers living in the Czech Republic.
Become a member