Royal Thai Embassy, Prague สถานเอกอัครราชทูต ณ กรุงปราก
On 14 June 2022, H.E. Mr. Thani Thongphakdi, Permanent Secretary for Foreign Affairs of Thailand, attended High-Level Dialogue on the Indo-Pacific as a lead speaker in the Roundable V: Connecting the Indo-Pacific sustainably, along with the representatives from European Commission, European External Action Service, United Kingdom, Germany, Belgium, India, Malta, Netherlands, and Portugal.
After the meeing, Permanent Secretary paid a visit to the Royal Thai Embassy to give moral support to diplomats and staff of the Embassy.
เมื่อวันที่ 14 มิถุนายน 2565 นายธานี ทองภักดี ปลัดกระทรวงการต่างประเทศ เข้าร่วมการหารือระดับสูงเกี่ยวกับอินโด-แปซิฟิก และเป็นผู้นำการสนทนาในการอภิปรายโต๊ะกลมหัวข้อ การเชื่อมโยงอินโด-แปซิฟิกอย่างยั่งยืน โดยมีผู้แทนจากคณะมนตรีสหภาพยุโรป European External Action Service อังกฤษ เยอรมนี เบลเยี่ยม อินเดีย มอลตา เนเธอร์แลนด์ และโปรตุเกส เข้าร่วมด้วย
ภายหลังการประชุม ปลัดกระทรวงการต่างประเทศได้เยือนสถานเอกอัครราชทูตเพื่อเป็นขวัญและกำลังใจแก่ข้าราชการและลูกจ้างของสถานทูต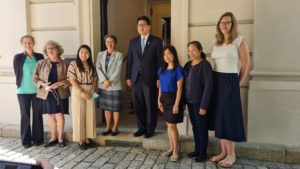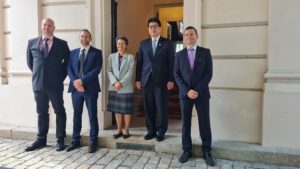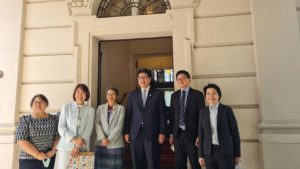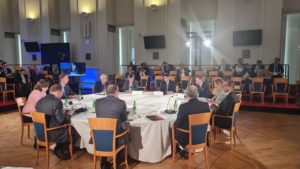 Prague Forum Membership
Join us
Be part of building bridges and channels to engage all the international key voices and decision makers living in the Czech Republic.
Become a member