SUMMER SCENE OF THEATER UNGELT 2022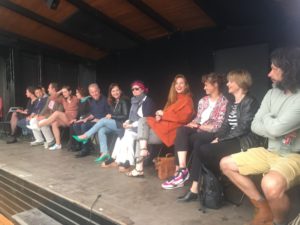 From 16.5.2022 to 13.9.2022 takes place in the area of the Hradčany New World 18th year Summer Scene Theaters Ungelt. It offers viewers not only increased comfort, but also the whole repertoire from the stone scene. Within five months will play a record 110 performances!
The program will also feature five new features this year season. The most recent is the tragicomedy from the theater backstage Old Masters by Dutch playwright Gera Thijse. Directed by Milan Schejbal, he plays two roles quarrelsome actors and brothers will be introduced by František Němec and Milan Hein. After two Czech premieres at The stone stage of the Ungelt Theater (7th and 8/6/2022) awaits this staging first release for the public 6/12/2022 just at Summer scene.
In addition to the Old Masters, four other premieres are prepared in the 2021/2022 season – a all are transferred to the New World! It's an Irish grotesque game to sing as Gigli, in which Radek tries to sing as a famous Italian tenor under the direction of Marek Němec Holub and Jiří Hána, Monika Zoubková helps them a lot. In a musical comedy A beautiful memory, on the other hand, reveals what it's like to be a pianist of the worst singer of all time Florence Foster Jenkins. In a bizarre story full of live jazz and opera music performed by Bára Štěpánová and Ondřej Brousek (directed by Martin Čičvák). Among the other two news belongs to the captivating American road-movie The Road to the Waterfalls with Jiří Langmajer and Anežka Šťastný (directed by Michal Dočekal) and the sunny Italian comedy Trout, in which the audience cheers up Pavel Liška, Jaromír Dulava and Alena Mihulová (directed by Jakub Šmíd).
JK
Prague Forum Membership
Join us
Be part of building bridges and channels to engage all the international key voices and decision makers living in the Czech Republic.
Become a member