'The Big Nothing': New Czech documentary unmasks the Covid pandemic
Hans Weber
February 17, 2023
How did Czech society respond to the Covid pandemic? The Big Nothing (Velké nic), a new documentary from filmmakers Vít Klusák and Marika Pecháčková, reflects on the past three years to try to come to terms with the worldwide pandemic, and see if it brought about anything positive.
The Big Nothing opens in cinemas in Prague and across the Czech Republic from March 16.
Utilizing stark black & white footage from the front lines of Prague during the mask-wearing, Covid-testing days of 2020-2021, The Big Nothing showcases scenes that are only a few years old but seem to have been culled from a dystopian sci-fi movie.
"Our three years of filming was a kind of therapy: to not let Covid and its effects control us, but to transform all the annoyances into creative energy," says director Klusák, who previously made the shocking pedophile-hunting documentary Caught in the Net.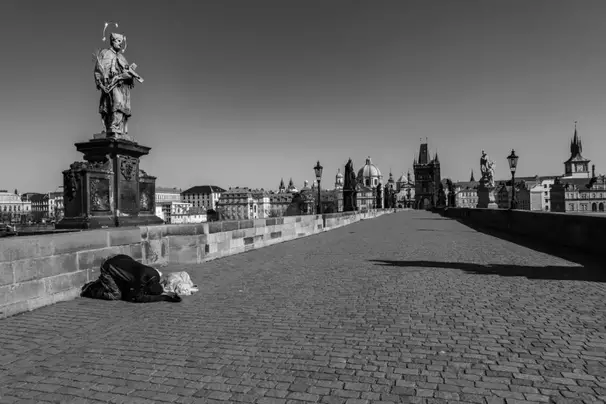 "I didn't want to just stay locked up somewhere, so we went shooting. And I'm glad that it didn't turn out to be documentary torture: that despite all the serious undertones, the film is unexpectedly lighthearted."
Advance footage from The Big Nothing showcases scenes of a tourist-free Prague, police officers checking pedestrians for mask-wearing compliance, athletes trying to stay in shape at home, anti-restriction demonstrations, and more.
The filmmakers were careful not to overtly pass judgment on the Czech response to the pandemic, and instead let the footage speak for itself. "It's not about Covid, it's about us," noted one viewer from an advance screening in press notes for the film.
"I was fascinated by the void that Covid created. We were given the opportunity to hear our inner voices. Those that we sweep under the carpet in our daily hustle and bustle," says co-director Pecháčková.
"It is often difficult to accept their message, and suddenly the possibility of perceiving them on a collective level fell into our lap."
Distributor Aerofilms released the first trailer for The Big Nothing earlier this week ahead of its March 16 release in Czech cinemas. Look for the film to play with English subtitles at Prague's Edison Filmhub next month.
Hans Weber
December 6, 2023
Orban's Obstruction: EU Accession for Ukraine and War Aid Hang in the Balance
Hans Weber
December 5, 2023
Premier Fiala traf österreichischen Bundeskanzler Nehammer am Montag in Wien
Prague Forum Membership
Join us
Be part of building bridges and channels to engage all the international key voices and decision makers living in the Czech Republic.
Become a member