Vinařství Mikrosvín Mikulov has been awarded the title of Winemaker of the Year of the Czech Republic 2022
Hans Weber
August 19, 2022
The Mikrosvín Mikulov winery became the winemaker of the year 2022. The title of Silver Winemaker of the Czech Republic 2022 was awarded to Ing. Miroslav Volařík and the Bronze Winemaker of the Czech Republic 2022 is Vinařství SPIELBERG from Archlebov. Vinné sklepy Skalák-Ing won the award for the most successful family winery in the competition. Leona Šebestová from Skalka near Ježov. As part of the Gala evening, the results of the competition for the absolute best white and red wine in the competition were also announced. The National White Wine Champion for 2022 is the Riesling Vlachský selection from the 2021 selection of Jiří Uherek from Dolní Bojanovice. The National Red Wine Champion for 2022 was Frankovka Grand reserva late harvest 2019 by Petr Skoupil from Velké Bílovice. Winemaker Josef Valihrach from Krumvíř received the prize of the Wine Association of the Czech Republic for his contribution to Czech and Moravian winemaking.
 As part of the Gala Evening, which took place on August 17, 2022 from 7:00 p.m. in the Great Hall of the Žofín Palace, DASHA performed as a musical guest.
The Winemaker of the Year competition is independent and open to all winemakers from the Czech Republic. The commission will then decide on the final ranking. The organizing committee of the competition regularly invites to the final committee not only the best domestic tasters, but also the absolute world's top sensory evaluation of wines led by several Masters of Wine!! The following advanced to the grand final: Vinařství Václav s.r.o. Hustopeče, Sonberk a.s. Popice, Vinařství Mikrosvín Mikulov a.s., Spielberg CZ , s.r.o. Archlebov, Ing. Miroslav Volařík Mikulov, Skalák Wine Cellars – Ing. Leona Šebestová Skalka, THAYA vinařství, spol. s.r.o. Hnanice, Castle Winery Bzenec s.r.o. Despite the fact that they presented themselves with great wines and won medals in individual competition categories, they remained short of the final line: 9th place VINSELEKT MICHLOVSKÝ a.s., 10th place Milan Sůkal, 11. instead of Jiří Uherek, 12. place Vlastislav Klobása, 13th place Rodinné vinařství Beneš, 14th place Petr Skoupil. This is an excellent result, as a total of 54 wineries participated in the competition. All detailed data from the assessment are then available at www.vinarroku.cz.
JK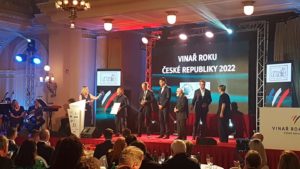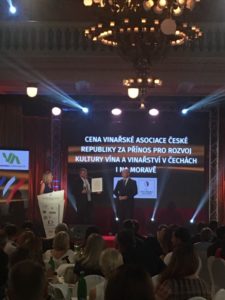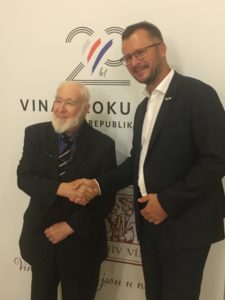 Prague Forum Membership
Join us
Be part of building bridges and channels to engage all the international key voices and decision makers living in the Czech Republic.
Become a member